What is a Microcredential?
Microcredentials are certifications of assessed competency in high-demand skillsets and knowledge areas that are industry-recognised and can be achieved in shorter timeframes than other AQF award qualifications. Aligned with the individual units of our MBA+ program, a Microcredential from AIM demonstrates the high standard of learning you have achieved and bolsters your career outcomes. On successful completion, share your Microcredential on LinkedIn and other digital platforms to display your growing professional value to current and future employers.
Your Microcredential can stand alone as an independent credential or be used as recognition towards an ABS postgraduate qualification.
Learn Online
with Expert
Instructors
Progress online through theory study over 7 weeks guided by learning experts
Complete
Three
Assessments
Test and demonstrate your understanding of curriculum with online facilitator-marked assessments
Earn a
Respected
Credential
Complete your study and gain a highly recognised and respected credential
Seize
Your Career
Future
Leverage your Microcredential with current and future employers to demonstrate your skills and commitment to development.
Is this Microcredential right for you?
This Microcredential is for emerging and current project managers and business leaders seeking a sound understanding of critical Agile concepts to transform current organisational operational models to improve competitive performance.
You can study this Microcredential as a standalone course or stack it together with other related Microcredentials to build towards ABS postgraduate qualifications, such as:
Master of Business Administration
Image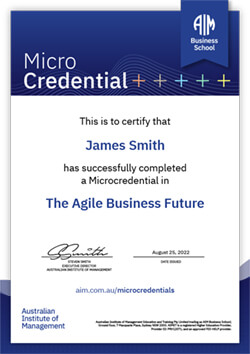 Learn it. Earn it. Share it.
Upon successfully completing the Microcredential in The Agile Business Future, you will be awarded with a digital certificate to recognise your high standard of learning and commitment to professional development. You can print your certificate or share it digitally, such as on LinkedIn or your personal resume, to demonstrate your ability to your peers and current or future employers.
Assessment
There are three assessment tasks for this Microcredential.
Assessment Task
Due Date
Length
% of Overall Grade Period
Report: Business Case
for Agile pilot
Week 4
2500 words
35%
Report: Planning an
Agile project
Week 7
3000 words
50%
Knowledge
Checks
Ongoing but completed by Week 7
10 multiple choice questions per topic
15%
Additional Information
What's included?
Access to myABS.
Downloadable course notes.
Downloadable tools and resources
Payment Method
We require full payment to be made upfront prior to accessing the online short course.
Separate Terms and Conditions and Cancellation Policies apply for AIM Business School Microcredentials.
Credit Transfer 
If you wish to transfer the credit of a successfully completed Postgraduate Microcredential to a qualification, please note that it is subject to our Credit and RPL Policy as described in these Terms and Conditions.
Login Restriction Statement
Unique log-in details are provided to each student. Students must not share their log in details with other students.
Payment Options
We require full payment to be made upfront prior to attending the training. Payment options we offer include:
Credit Card (Visa/MasterCard/Amex)
Direct Deposit (EFT)